Burlington Family Eyecare Staff
Meet the experienced and friendly staff who make Burlington Family Eyecare the leading provider of vision care products and services in Burlington.
---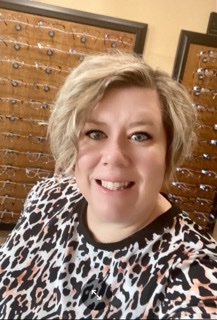 TRINA
Trina is currently the manager at Burlington Family Eyecare.
She joined the team in April of 2012.
She has lived in Burlington her entire life, except for her attendance at University of Iowa where she majored in Art.
She worked for a brief time for Dr. Bush when he first arrived to Burlington to practice, and after leaving to pursue her retail/management goals, returned to work for Dr. Bush as front desk receptionist, pretesting technician, optical assistant, insurance and billing coordinator, and then to manager.
Trina enjoys visiting with patients and helping them with any questions regarding products, exam notes, and insurances.
Trina loves spending her free time with her husband and child, taking walks with their Australian shepherd, Bruno, and amateur photography. She also enjoys traveling with her family and beach vacations.
---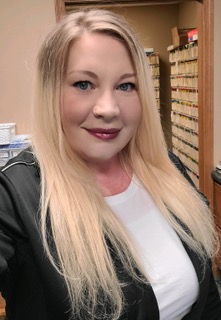 KASIE
Kasie was born and raised in Burlington, Iowa. She is a Certified Medical Assistant with twelve years experience in the medical field. She has four years experience as the Optical Supervisor. Kasie loves helping her patients, and fixing their frames when they are broken. In her free time, she enjoys spending time with family and friends. She enjoys music, playing with her Beagle, Daisy, and her two cats. She enjoys cooking, reading, and thrift shopping.
---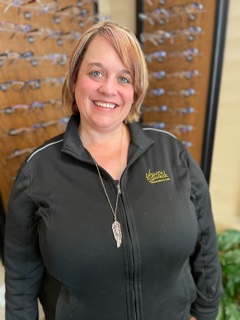 KELLIE
Kellie is a native of Burlington, Iowa, where she lives with her husband and dog. Kellie has been an optometrist assistant since 2019 and becoming tech supervisor in 2022. She enjoys providing her patients with a comfortable experience during their visit at Burlington Family Eyecare. She also enjoys going for a Harley ride, going to live concerts and spending time with her husband, grandsons, family and friends.
---
JESSIE
Jessie joined the Burlington Family Eyecare team in August of 2022. She has worked in the healthcare industry for over 5 years. At work she enjoys making repairs on glasses and working with patients in optical, especially if she gets to help them pick out new frames.
Jessie grew up in Henderson County, IL where she currently resides with her husband and her two dogs- Felicia and Rex. Jessie is also expecting a new addition to her family- a baby boy due in March 0f 2023.
In her free time she enjoys listening to music, spending time with family, painting, trying new coffee shops, and fishing with her husband.
---
KATIE
Katie is originally from St. Louis but moved to Iowa in 2020. She is married with one daughter. Katie is currently going to school at Southern New Hampshire University for a bachelor's in Human Resources Management. She has about 2 years' experience in the Optical Field and has been working for Dr. Bush since March of 2022. Katie is the front desk receptionist and enjoys scanning in insurance, answering questions for patients and taking phone calls. In her spare time, Katie enjoys shopping, reading, cooking, listening to music and playing with her cat, Kimber.
---